Ukraine apart
I have been covering the events in Ukraine for a year and a half. What started as a peaceful protest in Kiev turned into a full-scale riot then into a street war, and then through Crimea annexation into a real war in Donbass.
Covering that shift was a tough task, especially as the events fell surreal at the moment (and dso in retrospect).
That revolution was meant to elevate the people of Ukraine and their country to a new level of dignity and prosperity, but it turned into a war that showed the worst in so many people and tore apart so many groups and connections.
Protesters chat with each other holding EU flag during clashes with police forces in Kyiv, Ukraine.
Riot police officers prepare for an attempt to dissolve the crowd that gathered at Kiev's main square Maidan
Protesters throw stones towards riot police forces
Protesters lit up the barricades on Hrushevskogo street in Kiev
Protesters shoot with fireworks towards riot police forces
Volunteers help as doctors in the hospital organized in Kyiv's Mikhailovsky monastery after almost 100 protesters were killed with snipers' fire and hundreds were wounded
A protester gestures during clashes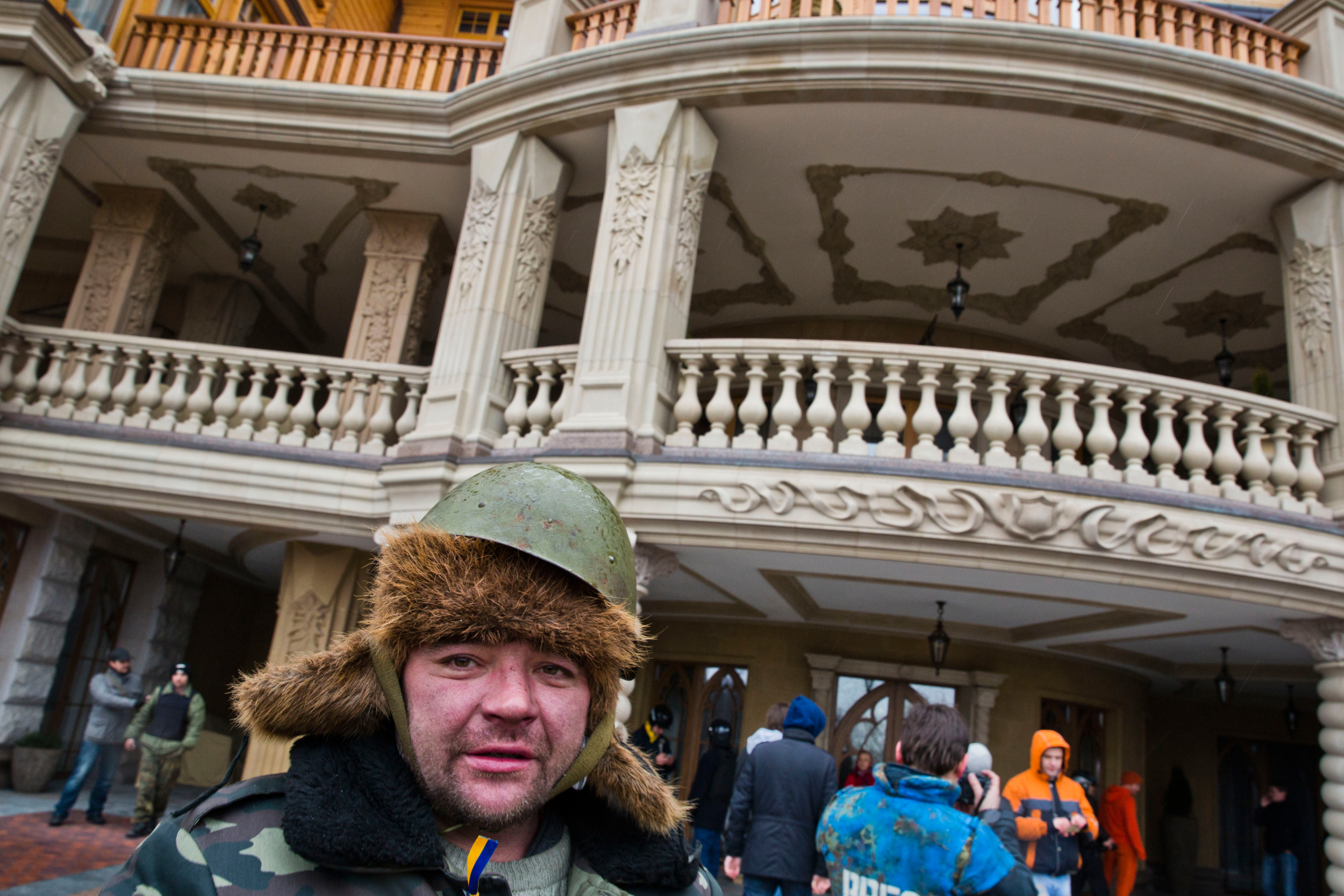 Protesters explore Ukrainian president Yanukovich's fancy residence Mezhihirya after he fled the country
Portrait of Ukrainian ex-president Yanukovich and ex-prosecutor general Pshonka is seen damaged after protesters assaulted Yanukovich's residency when he fled the country. The portrait is a part of an exposition of president's goods that was installed in Kyiv the summer after the revolution won.
Russian soldiers are seen guarding their camp that blocked one of Ukrainian army military bases in Crimea
Ukrainian sailor is seen smocking on board of his vessel as it is blocked by Russian ships near Sevatopol
Minefield and a border line are prepared by Russian soldiers in Ukrainian region Kherson next to Crimean peninsula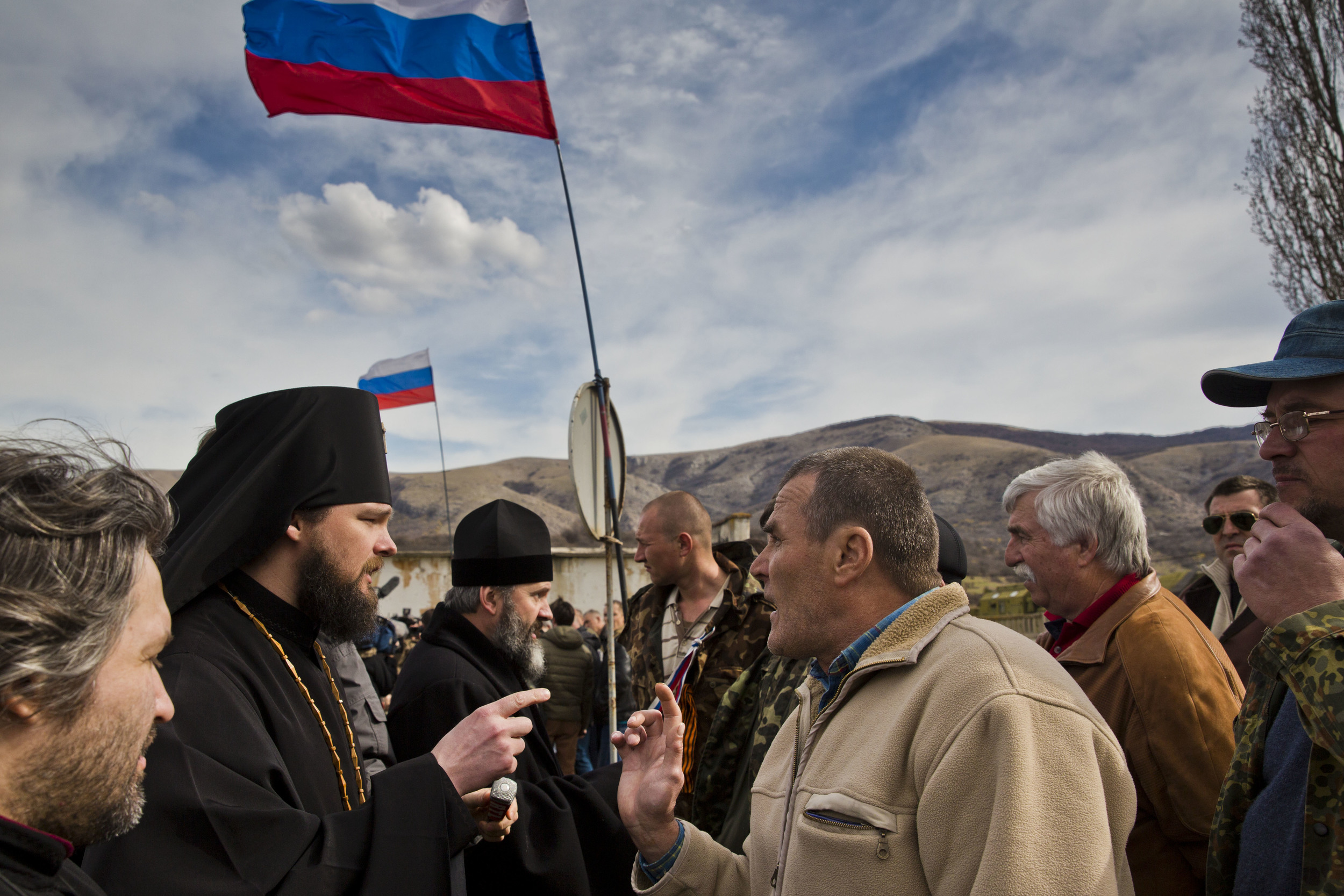 Pro-Russian militiamen are seen confronting a priest on his way to a church situated on Ukrainian military base
A man is seen holding Russian flag as Simferopol celebrates Crimea becoming a part of Russia
Handprints are seen on the charred walls of Trade Unions building in Odessa that was a headquarters for Pro-Russia protesters and was burned down after clashes were provoked, leaving 42 dead
An armed separatist is seen in Donetsk
A civilian woman is seen dead in Donetsk
Pro-Russia fighters and journalists are escaping fire during first battler for Donetsk airport
Woman passes by a destroyed building in Sloviansk
Locals shelter in a basement of a chemistry plant in Donetsk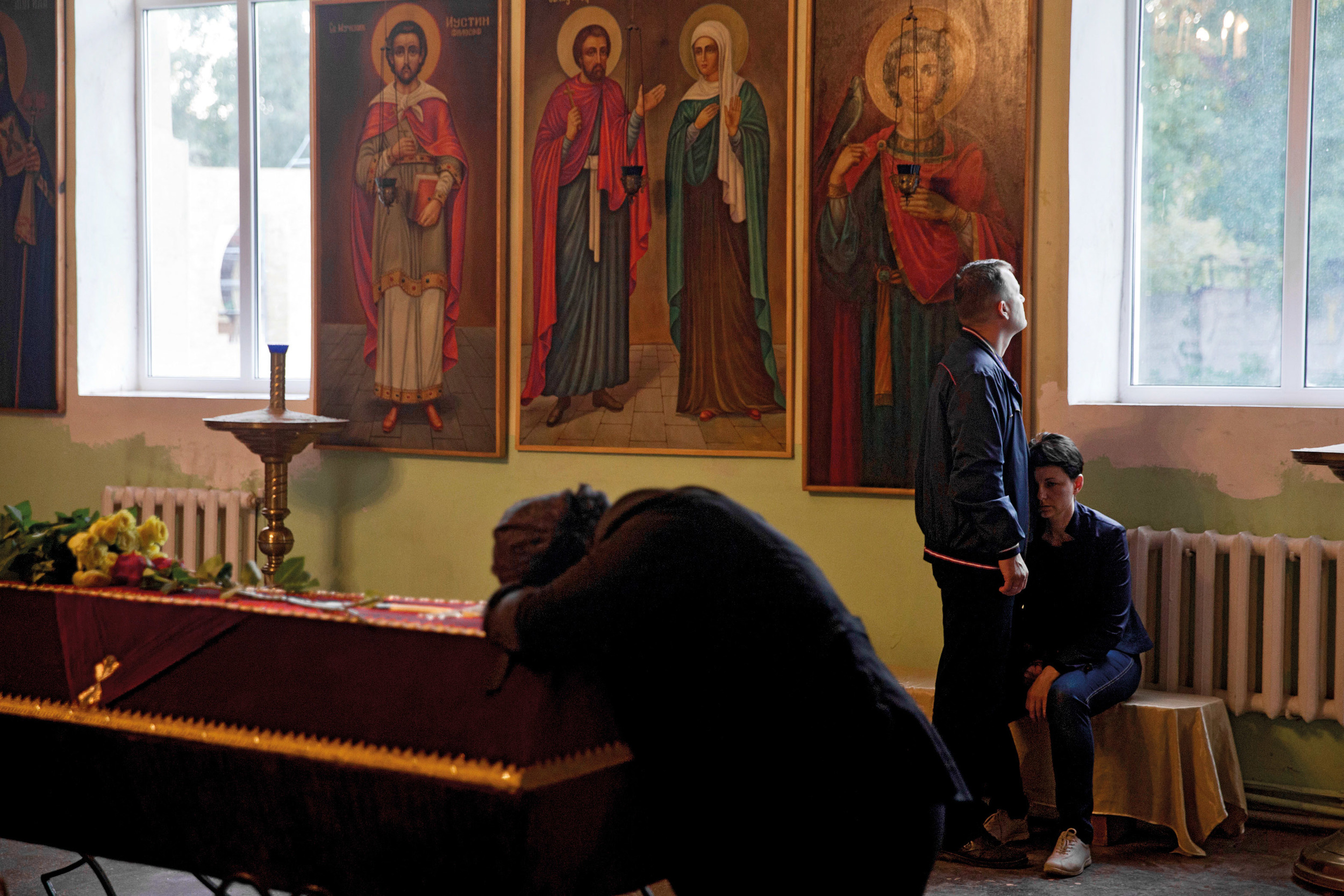 Relatives mourn Ukrainian soldiers who were KIA in the very first days of truce in September 2014
Wounded soldiers are seen in a hospital in Dniepropetrovsk
Ukrainian soldier reflects as he is forced for labour among other prisoners of war in Ilovaysk
Pro-Russian fighters are seen escorting Ukrainian POWs on the streets of Donetsk
Pro-Russian fighter is seen guarding Ukrainian POWs as they are forced for labour in Ilovaysk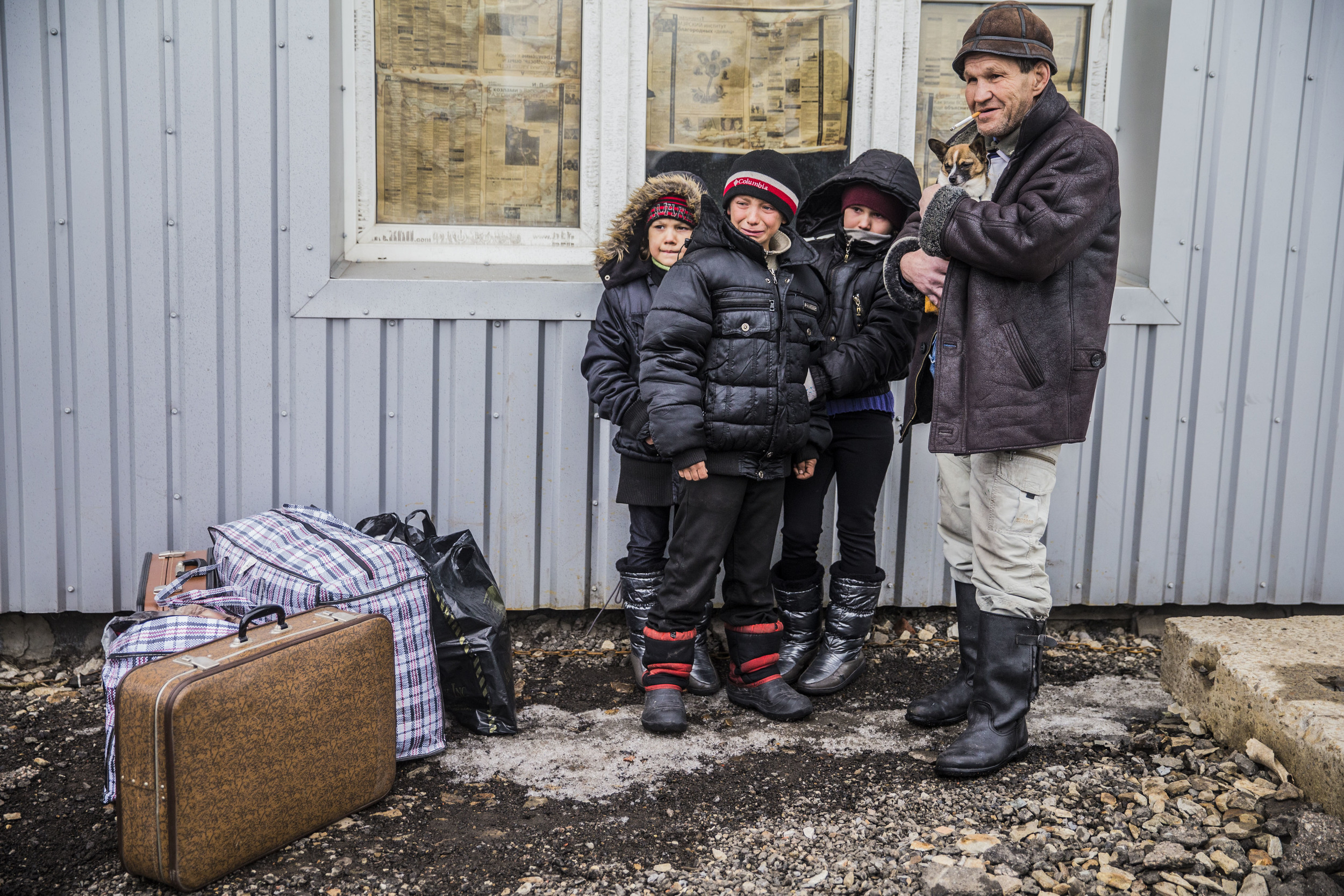 Locals are seen fleeing Debaltsevo as fierce fights erupted in the area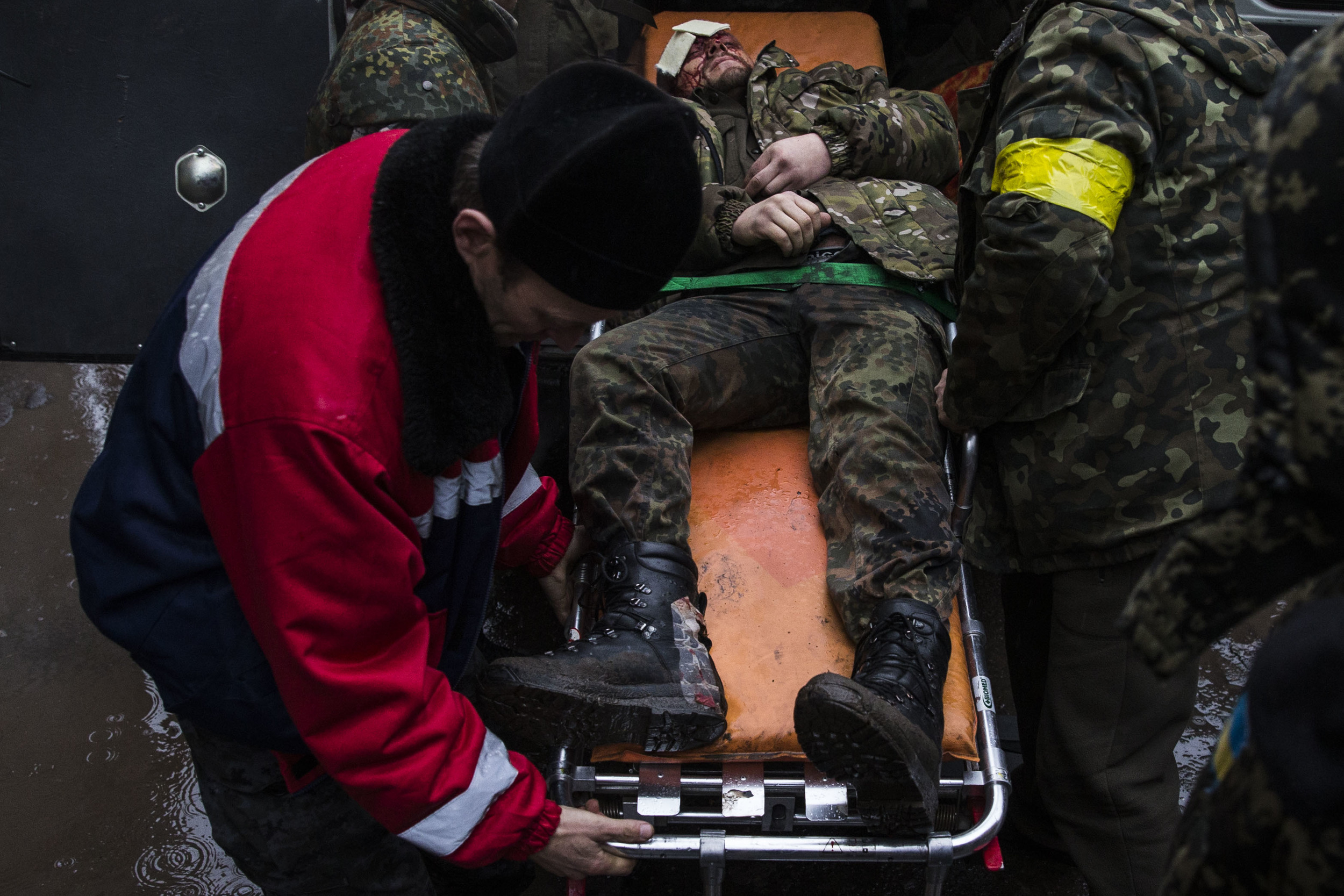 Ukrainian soldier is seen wounded as he is transferred to the hospital after fights in Debaltsevo area
A woman is seen hiding in a basement as Debaltsevo comes under heavy fight from separatists' side
Debaltsevo area is seen shelled